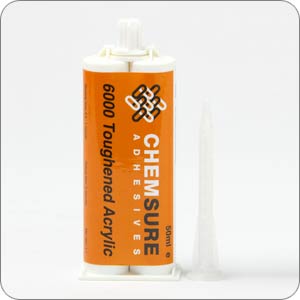 Request Technical Data & MSDS
6000 Toughened Acrylic
Chemsure 6000 is unique in being the only totally clear low odour, toughened, fast setting gel adhesive. It's clarity makes it ideal for the bonding of clear plastics within the sign/display and shop fitting market, it will also bond most plastics, composite materials and the normal metals including Steel and Aluminium. 6000 has an open time of 90 seconds making it ideal for high volume manufacturing applications, and cures to give a fixture time of around 5 minutes. Full cure is achieved in 12 hours, extended in cold conditions and similarly accelerated in warmer environments.
Total clarity on transparent materials, invisible bonds on solid materials.
minimal odour.
Low exotherm will not cause witness marks on thin gauge materials or Alucobond®
General applications for Chemsure Adhesives 6000
Clear plastic signs, POS displays, lecterns, awards and boxes.
Metal fabrications requiring shock resistance/flexibility.
Bonding dissimilar materials with different coefficients of expansion.
Loudspeaker components with good resistance to vibration.
Colour:
Sizes: